PACIFIC MAGAZINE, November 2001
How Kessai Note Defied Tradition to Become President
The new face of leadership in the Marshalls
By Giff Johnson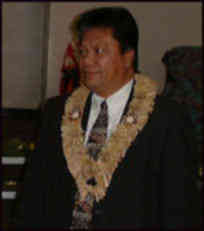 Kessai Note made history in early 2000 by becoming the first commoner to be elected president of the Marshall Islands, where traditional power remains strong and, until recently, there had been little change in a political environment once dominated by traditional leaders. Paradoxically, the man who led the popular groundswell for government reform in the new millennium, launched his career in an almost accidental manner. In 1977, he was petitioned by voters to run for the then-region wide Congress of Micronesia. Local political powers urged him instead to run for the Constitutional Convention that was just forming to draft the first Marshall Islands constitution.
Note was working as a Trust Territory agricultural economist in the district center, Majuro, at the time. "I thought the Con-Con wasnt a full-time job," he said. "One session and it would be finished. So I said, OK, put my name in." Despite not having been on his home atoll of Ailinglaplap for 10 years, he won the election. The Con-Con ended up taking two years to complete. While in the Con-Con, the 27-year-old Note, just three years back from university training in Papua New Guinea, mingled with the country's top leadership. "I saw that I could do the job," he said, adding that his thinking about politics changed: "Why not? I can do it." A month-long trip to several remote outer islands during the first session of the Con-Con also had a profound impact on his future career. Note and Ruben R. Zackhras, then-Con-Con president and veteran politician, headed a team that held public meetings on far-flung and sparsely populated islands to get peoples reaction to the first draft of the new constitution. Perhaps, what is most significant was that he was studying in Papua New Guinea when it was emerging as an independent country, meeting and talking with prominent political leaders such as Sir Michael Somare, Sir Julius Chan and Sir John Kaputin. In contrast to most Marshall Islanders - whose college education experiences were largely United States focussed - Note was in a country teeming with nationalist fervor and political debate. Note was elected on - for the Marshalls - an unprecedented anti-corruption campaign platform.
While the attempt to clean up the Marshalls' financial management record has defined his first two years in office, two watershed events during his speakership in 1998 and 1999, when he locked horns with the majority party led by then President Imata Kabua, catapulted him to viability as a future president.
In the first instance in 1998, he ruled that Kabua and two other Nitijela members could not vote on a measure to outlaw gambling because they had gambling interests.
As a result of his move, legislation pushed by the local religious community passed, banning gambling.
Kabua later sued him and Notes decision was upheld by the courts. In August 1999, just three months before the national election, he sided with the opposition on a procedural question, allowing the first-ever vote of no confidence to be held by secret ballot.
It precipitated a walkout by the majority party and the eventual intervention of the courts for the vote (which lost by one vote). Again his decision upheld by the courts.
Although Note in his characteristically modest way downplays the significance of his actions, they were a dramatic part of political developments that have changed the political landscape in the nation since the death of the first President Amata Kabua in late 1996. Indeed, the election of a president who was not a traditional chief - as were the first two presidents - was unimaginable just half a dozen years ago.
But Note, again, sees his election in a different light. He prefers not to describe it as the demise of the iroij (chief) system, but a "result of people expressing democratic principles and wanting to exercise their rights within the Constitution.

"My election was a combination of several circumstances, including people not trusting the leaders at the time and a lot more educated Marshallese who have more liberal ideas. People are very nationalistic now and they want good government and good leaders."
---

The historical information within this site, while constantly updated, is drawn largely from the book, FOR THE GOOD OF MANKIND: A History of the People of Bikini and their Islands, Second Edition, published in September of 2001 by Jack Niedenthal. This book tells the story of the people of Bikini from their point of view via interviews, and the author's more than two decades of firsthand experiences with elder Bikinians.

Copies can be purchased from this direct ordering link at Amazon.com, or you can also buy and download the Kindle edition.