History of the Bikini Bathing Suit
Sports Illustrated "Bikini Waxing" from the 1997 Swimsuit Issue
Bikini Bathing Suit Timeline
Zachery's Bikini History
Web site about everything to do with the Bikini bathing suit: http://www.everythingbikini.com/
From Bardot to Graf, from ground zero to grass, here's the skinny on the two-piece
by Steve Rushin
You are not reading this.
And if you happen to be the kind of person-let's face it, if you happen to be the only person-who really does read the articles in the swimsuit issue, then you already know that last year witnessed the 50th anniversary of the invention of the bikini (from the Latin bi, meaning "two," and kini, meaning "square inches of Lycra").
What you may not have considered is this: We now stand poised at a historical crossroad, a crucial cleavage in the history of the swimsuit. Nineteen ninety-seven is the dawn of a new age, the first year of the second half of the Bikini Century. This raises several vexing questions, not the least of which are, Where is the bikini heading? Can I follow it there? And if so, will I have to wear sunglasses and pretend I'm not looking?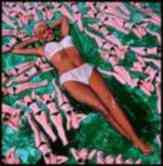 For a 1957 Life photo shoot, Jayne Mansfield was as buoyant as a bevy of bikinied water bottles photograph by Allan Grant/Life Magazine
With so much at stake, I was asked to compose the following bikini lines, to offer these bikini waxings. Please-allow me to bikini brief you.
I am eminently qualified to do so, having just screened the actual motion pictures Bikini Beach, Bikini Squad, Bikini Drive-in, The Ghost in the Invisible Bikini, How to Stuff a Wild Bikini, Stocks and Blondes (um, it had a bikini on the box) and It's a Bikini World. To which the following pages will wholeheartedly attest: It certainly is a Bikini World.
In this issue you will circumnavigate that world on a navel expedition more epic than Magellan's. Since last September, SI has endeavored to visit every important port in Bikinidom, or to burn-and-peel trying. I was appointed Official Bikini Researcher, which only sounds as if it belongs on a T-shirt sold in truck stops, next to those declaring I'M WITH STUPID or TAKE ME DRUNK, I'M HOME. In fact, my work would address some serious swimsuit issues and require exhausting excursions to centers of swimwear scholarship. Which is to say, St. Tropez.
St. Tropez is home to Club 55, a bistro frequented by bikini icon Brigitte Bardot, who helped bring the suit to prominence, as did pinup girl Diana Dors, who in '55 sported a mink number at the Venice Film Festival. "Nineteen fifty-five was to the bikini what '54 was to black school children and '56 was to Hungarian freedom fighters," says my colleague Alexander Wolff, whose story on Monaco begins on page 36 and whose company-mandated psychiatric examination begins on Tuesday. Good luck, Alex!
Though close, the French Riviera is not quite ground zero in Bikini World. That distinction belongs to the actual ground zero itself: to Bikini, the Pacific atoll on which A-bombs were tested in 1946. That year, Louis Réard, a French automotive engineer who was running his mother's lingerie business, named his new two-piece, atom-sized swimsuit for the test site, and the rest is (revisionist) history: The bikini was born.
Thanks to the combination of surf, song and skin, it was a bikini world in '67 courtesy of Joe Russo.
In fact, mosaics found in the fourth-century villa at Piazza Armerina in Sicily are festooned with women wearing bikinis. And cavewomen wore fur bikinis (and mascara) as early as the Stone Age, if the appearance of Raquel Welch in One Million Years B.C. hews to prehistorical fact. And who's to say it doesn't? But that is neither here nor there.
Bidding adieu to the Riviera, we next dropped anchor off the coast of Venezuela, spending several buenas noches on Los Roques. There, E.M. Swift went fishing with supermodel Niki Taylor. This, too, was an epochal event: The first time in swimsuit issue history that a fishnet was used for-get this-actual fishing.
I likewise spent some time angling, though this regrettably had nothing to do with fish. It happened in Malibu at the rented beach house of three swimsuit models. In accordance with the restraining order filed against me in California, what occurred there can be recounted only in a fictionalized form, and I do so on page 200. All parties are forbidden to comment further. Can we just move on?
Very well. You will notice that this issue is peopled with professional athletes, as well as models in various stages of undress. (By the way: Undress is believed to be a contraction of Ursula Andress, who as a Bond girl named Honeychile Rider wore history's most memorable bikini in Dr. No. It was accompanied by a hip holster that held a hunting knife and generally looked more in keeping with J.R. Rider than H. Rider. But I digress.)
In Hawaii, for instance, we photographed members of the women's beach volleyball tour. They are among the few professional athletes to actually compete in bikinis, including, of course, the mysterious Swedish Bikini Team members, whose "sport" was about the only thing never made explicit by those beer commercials in which they starred.
Of course, Hawaii itself is not so much associated with bikinis as it is with grass skirts. So we commissioned a designer to combine the two concepts. The result is worn on page 194 by Chandra North (in a grass bikini, by Mother Nature, $5 a square foot). We believe it is the future of swimwear. But seriously: "Who did design the grass bikini?" I asked swimsuit issue editor Elaine Farley. "Monsanto?"
"Moschino," she corrected me.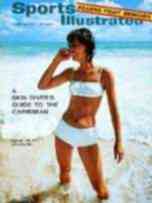 In 1964 the two-piece became a fixture on dormitory walls around the country with Babette March's appearance on SI's first swimsuit cover photograph by J. Frederick Smith
I am not making this up.
The suit was "grown" by the Italian clothing design firm of Moschino, which suggests that you wash on gentle cycle and lay flat to dry.
While looking into bikinis, as it were, I happened upon the seaweed bikini, macramé bikini, vinyl bikini, string bikini, mink bikini, rubber bikini, monokini, Brian Hyland's Itsy Bitsy Teenie Weenie Yellow Polka Dot Bikini, Chanel's infamous "eye-patch" bikini and the irrepressible tanga, "thong" or "dental-floss" bikini, responsible for the crack epidemic on Brazilian beaches. But none were so intriguing as the grass bikini, and I for one think we blew a rare opportunity in neglecting to have Steffi Graf pose in her best surface, rather than on it.
That's right. Now it can be told: Graf is our Fräulein February, having been photographed in a double-secret-probationary shoot in Cabo San Lucas, Mexico, last December. Everyone agrees that she looks wunderbar, which reminds me: Wonderbra model Eva Herzigova also helps us pay homage to Bikini Atoll by barely wearing a bikini atall, on page 134.
How's that? You say you'd like to turn to those photos straightaway? Then I'll cut my remarks short. I had so much more to tell you about swimsuits, but it's obvious we're not on the same page here. (Probably in the most literal sense of that phrase. You turned to Tyra Banks 10 minutes ago, didn't you?)
What's the use? You say, "Moschino"; I say, "Monsanto." You say, "Wonderbra"; I say, "Wunderbar." Moschino, Monsanto, Wonderbra, wunderbar: Let's call the whole thing off.
---
HISTORICAL TIMELINE OF THE BIKINI BATHING SUIT
FROM PEOPLE MAGAZINE (A revealing history of the timeless two-piece)
1946: An explosive year. Bikini Atoll becomes no Bikini at all. In Paris, engineer Louis Reard quietly unveils a swimsuit of the same name. The world yawns.
1951: Bikinis, perhaps seen as an unfair advantage to the wearer (and as potentially dangerous to the health of some judges) are banned from beauty pageants after the Miss World Contest. The tasteful one-piece reigns supreme.

1957: Bikini-clad Brigitte Bardot frolics in "And God Created Woman," creating a hot market for the swimwear. Coincidentally, Hollywood markets 3D glasses in theaters.
1960: Brian Hyland sings "Itsy Bitsy Teenie Weenie Yellow Polka Dot Bikini," triggering a bikini-buying spree among American teens.
1963: The bikini meets a challenge in the generous form of Annette Funicello. The ex-mouseketeer's "Beach Party," with singer Frankie Avalon, leads to six sequels, including the memorably titled "How to Stuff a Wild Bikini" (in 1966). No special effects were used.
1964: The bi- ("two") kini becomes the mono- ("one") kini, in the eyes of designer Rudi Gernreich. The Vatican denounces the topless garb. An unrepentant Gernreich sells more than 3,000 suits in less than a season in Europe. More Americans go abroad.
1966: The bikini grows fur in "One Million Years B.C.," which catapults comely cavegirl Raquel Welch to stardom despite mixed reviews of the saggy screen saga.
1970s: Rio and St. Tropez produce the Tanga suit-- also called the Thong, the string bikini or "dental floss." The uncomfortable design becomes de rigeur for teen posters, muscle car magazines and boxing ring girls who announce the rounds.
1983: Carrie Fisher, as Princess Leia, wears an ornate version of the bikini (studded collar optional) in "Return of the Jedi." Even Yoda notices. The film is the most successful of the George Lucas trilogy.
1993: Score one for the "sports bikini." The hugging halter-top design becomes the rage, thanks to Volleyball queen Gabrielle Reece and MTV.
---
HISTORY OF THE BIKINI BATHING SUIT
Louis Reard (ray-YARD) had this problem. He had designed Something that would stir the masses. But he needed a name for it, something exotic, bold, and eye opening. Four days before he was to show the world his new bikini in Paris, the U.S. Military provided him with a name. They exploded a nuclear device near several small islands in the Pacific known as the "Bikini Atoll". On July 5th, 1945, he unveiled the bikini. lthough he would later claim he named the bikini after the islands and not the atomic blast, he was clearly taking advantage of a "hot topic". Another Frenchmen, Jacques Heim, had created his own two piece bathing suit, which he called "The Atome", and he described it as "The world's smallest bathing suit.
Reard called his "Smaller than the world's smallest bathing suit."
Reard's "bikini" was so small, in fact, that no Parisian models at the time would wear it on the runway. He hired Micheline Bernardini, who had no qualms about strolling around in a bikini, seeing as her day job was a nude dancer at the Casino de Paris. Bernardini was not what you'd a classic beauty, but after photos of her in a reclining pose hit the press, she was swamped with fan mail, close to 50,000 letters.
Two piece suits weren't new. As part of wartime rationing, the U.S. Government, in 1943, ordered a 10 percent reduction in the fabric used in woman's swimwear. Off went the skirt panel, and out came the bare midriff. At beaches across the country, men paid special attention to women doing their patriotic duty. But Reard pushed the envelope. He shrunk his suit down to 30 inches of fabric - basically a bra top and two inverted triangles of cloth connected by string - and put the navel on center stage.
The world took notice. In Catholic ountries - Spain, Portugal, and Italy - The bikini was banned. Decency leagues pressured Hollywood to keep it out of the movies. One writer said it's a "two piece bathing which reveals everything about a girl except for her mothers maiden name." Movie star Esther Williams who probably was seen in a two piece bathing suit by more people than anyone in the world, once said: "A bikini is a thoughtless act".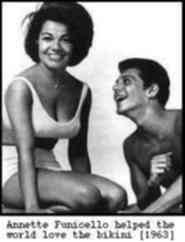 It's not clear whether she was talking about the bikini or the thought of wearing one. Reard's firm did it's part to fan the fantasies by proclaiming that a two piece wasn't a bikini "unless it could pulled through a wedding ring." In the '50's Brigitte Bardot did wonders for business- But not in modest America. Here it remained an invitation to scandal. As recently as 1957, Modern Girl magazine sniffed, "It is hardly necessary to waste words over the so called bikini since it is inconceivable that any girl with tact and decency would ever wear such a thing.
By 1960 America was ready for new frontiers, including, it seemed, great expanses of bare flesh. That year pop singer Brian Hyland immortalized the suit with his song "Itsy Bitsy Teenie Weenie Yellow Polka Dot Bikini." Three years later "Beach Party", the first in a series of Annette Funicello / Frankie Avalon flicks with a recurring theme of women danicing in bikinis, hit the big screen.
Times and tastes change, however, and just as importantly, people age. Through the '80s and early '90s, the bkini sales began to slide. Sales dropped to less than a third of the women's bathing suit market. in 1988 Reard's company folded.
The bikini, however, appears to be making a comeback. Sales are up! Some cite the "Baywatch" factor - or perhaps the Internet itself.
---

The historical information within this site, while constantly updated, is drawn largely from the book, FOR THE GOOD OF MANKIND: A History of the People of Bikini and their Islands, Second Edition, published in September of 2001 by Jack Niedenthal. This book tells the story of the people of Bikini from their point of view via interviews, and the author's more than two decades of firsthand experiences with elder Bikinians.

Copies can be purchased from this direct ordering link at Amazon.com, or you can also buy and download the Kindle edition.