Bikini Atoll Dive Tourism Information
NOW TAKING RESERVATIONS FOR THE 2013 SEASON
Conta

ct us


E-mail for reservation information:
bikiniatolldivers@gmail.com

Our season runs from late April to November, at this time Bikini Atoll is not open from December through early April


Bikini Atoll Divers in conjunction with Indies Trader Marine Adventures
proudly announces the re-opening of Bikini Atoll for tourism.

TRAVEL FROM KWAJALEIN ATOLL TO BIKINI ATOLL ABOARD THE WINDWARD:
The voyage from Kwajalein Atoll Airport to Bikini is 215 nautical miles, 65 miles in the sheltered waters in the lee of Kwajalein Atoll and 150 miles of open seas from the northerly point of Kwajalein to Bikini. The open seas leg is around 18 hours and the sheltered leg is 7 hours. The entire trip takes about 25 hours depending on sea conditions and current. There is an option of breaking the ocean crossing at Wotho or Rongelap Atoll for a wall dive on the way to Bikini Atoll. WothoAtoll is about halfway to Bikini from the top of Kwajalein and only a small deviation from the direct route. There is the possibility of a wreck dive in Kwajalein Atoll on the first morning in some instances if we have guests coming via Guam and Hawaii on the same trip and the Guam guests have to stay overnight to wait for the Hawaii guests.


All packages are liveaboard based, at this time we are not operating a land-based operation on Bikini Atoll.

Groups and Individuals are encouraged to book
directly with Bikini Atoll Divers.

Note: If you are a single diver and see a week that says "Booked"
still inquire as there may be openings for single divers.

2013
available weeks
(spaces available)

2014 available weeks
(spaces available)

2015 available weeks
(spaces available)

2016 available weeks
(spaces available)

Week is full if not listed
Week is full if not listed
Week is full if not listed
Week is full if not listed
Apri1 20 to May 2 (Open)
No weeks scheduled yet.
No weeks scheduled yet.
No weeks scheduled yet.
May 4 to May 16 (Open)

May 18 to May 30 (Hold)


June 1 to June 13 (Open)


June 15 to June 27 (Booked)

June 29 to July 11 (Booked)

July 13 to July 25 (Hold)

July 27 to August 8 (Hold)
Aug 10 to August 22 (Hold)
August 24 to Sept 5 (Hold)
Availability questions
bikiniatolldivers@gmail.com
Sept 7 to Sept 19 (Hold)
Sept 21 to Oct 3 (Open)
Oct 5 to Oct 17 (Hold)
Oct 19 to Oct 31 (Open)

updated: 1/24/2013

Please email bikiniatolldivers@gmail.com for current availability

Bikini Atoll Divers, a subsidiary of the Bikini Atoll Local Government Council, owns all of the ships in Bikini Atoll's lagoon.
Read a letter from Bikini Atoll Divers.



Contact Indies Trader: martin@indiestrader.com

---
Been There? Done That?
Are you a diver looking for an extraordinarily new experience?
THEN WELCOME TO YOUR NEW FANTASY...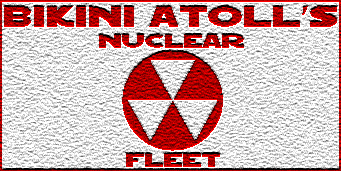 We will rock your underwater world.


"There are not many places that could look more like the Garden of Eden..."

- Conde Nast Traveler Magazine, in their July 2000 issue, declaring Bikini Atoll
one of the "Top 50 Worldwide Island Escapes."
"When you dive Bikini, you are touching the face of history..."
- Skin Diver Magazine, in their October 2002 issue, declaring Bikini Atoll
one of the "24 Dives of a Lifetime."
Bikini Atoll opened to divers in June of 1996 to provide an economic base for a possible future resettlement of Bikini Atoll. The Bikini Atoll Council, under the name of Bikini Atoll Divers, fulfilled their goal to open the one of the most professional--and safest--dive operations possible. In 2008 the Council had to close their operation due to local airline reliability issues, soaring energy costs and US stock market conditions that impacted the local government budget. In 2011 the Bikini Atoll Local Government signed an agreement with Indies Trader Marine Adventures that would permit them to operate their liveaboard vessel, the Windward, on Bikini.

Over the years a small number of people outside of the Marshall Islands have seen this form of commercialism on Bikini Atoll as something negative. It should be understood that the islanders themselves made the decision to open the atoll for tourism. When you go to Bikini you don't just go diving , fishing and sunbathing, you get a history lesson. Over the course of the visit historical documentary films are shown, complete briefings about each of the ships and their respective histories are given, and you get a tour of the island and the atoll. The Bikinians feel this to be important because this allows their story to be taken away by tourists and retold to their families and friends. In short, the tourism program helps perpetuate a story the islanders never want to see go away, ever.
Index for Dive Information
INFO

The Head Divemaster reviews what equipment and skills are needed to dive on Bikini.

The Diving

Dive Profiles

for the Bikini wreck dive tours, Windward liveaboard specifications, and Divemaster Qualifications.

$$$$$
Read more about the 2004 Discovery Channel film project.